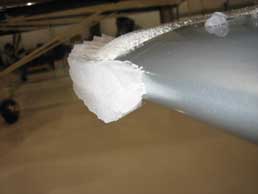 A new
airworthiness directive
issued by the FAA bans most early Cessna twins from flight into known icing regardless of whether or not they are equipped with anti-icing gear.
It would appear that the FAA feels this to be necessary because too many pilots were ignoring a mandatory service bulletin that was issued by Cessna in 1997.
It was discovered that even a little ice on almost 7,000 of the twins could seriously affect the slow-speed handling.
This AD becomes effective April 7, 2014 and required the installation of a placard requiring an extra 15 knots on approach if there is an inadvertent encounter with icing.
This is the current list of the airplanes affected by this AD. (
Cessna Twin
)